Posted on December 12, 2011
Filed Under Communication, Technology, The Writing Life | Leave a Comment
We've been accused occasionally of writing on a cloud, but writing to a cloud is something new in the annals of technical writing. The term refers, of course, to writing to an offsite server that functions as a supposedly eternal storage hub and allows ready access from anywhere to you and your colleagues or clients.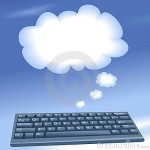 The "Cherryleaf" blog, like many other web-based scribal centers, notes that, "There are a number of reasons why a Technical Author might want to use a cloud-based application."They're "inexpensive, allow new authors to get integrated quickly, facilitate collaborative authoring and allow for third-party groups to log in and make minor edits."

Of course, you issue the password to the cloud so that unauthorized folks won't, or shouldn't, be roaming around up there – or is it "out there"? (Remember the lovely old standard song, "Stairway to the Stars"?)
Ellis Pratt, the writer of the Cherryleaf post, provides some helpful suggestions on where you might host your cloud, though we have difficulty with the notion of tethering a cloud. And, Pratt adds, "the cloud solution allows you to focus on the content rather than getting wrapped up in technical problems."
Those technical problems no doubt include where to insert into today's computers the pocket-sized disk on which we used to store our output.
On his freelance technical gigs, our colleague, Dennis Owen, is probably writing most often to local servers, but we need to ask him whether he occasionally hears harps playing in the background.
We know that the providers of cloud servers are entirely scrupulous folks with the most reliable equipment possible. But, still, there's something that gives us pause about shipping our content to someone else's custody. We need to get over that, though, we suppose. At least if we want to be fully mobile in today's digital world. – Doug Bedell
(Having now read this post, Dennis adds this sentiment, from St. Augustine: "You plan a tower that will pierce the clouds? Lay first the foundation of humility." Bless him.)
Comments
Recently
Categories
Archives
Blogroll