Posted on January 26, 2012
Filed Under Business, Communication, Technology, The Writing Life | Leave a Comment
Apple's education event in New York City this month had striking implications, not only for high school and college students and their teachers, but for technical writers as well. That's how we see it anyway.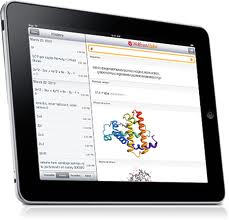 Written and graphic communication and learning, it's clear, are going to become increasingly tablet-based, especially iPad-based. To glean the possibilities, we invite you to watch the video on iPad learning that Apple has posted on its website. You'll be wowed by the fluidity and currency that can be added to texts and illustrations by formatting them as idocuments. (You'll need to use Apple's Safari browser, though, it's the only one the presentation plays on.)

Not only will you be impressed; over time your clients and colleagues will be expecting you to present the same clarity and timeliness in your tech documents and presentations. We'll bet on that. Why? Because fluidity is much more inclusive and engaging in the insights and understanding it promotes. And learning at its best is a fluid and engaging process. (We'll always remember the college professor who took us down the road with a column of knights festooned in the banners and bunting of their duchies.)
iPads are only in their early versions. But they've already become widely adopted in enterprises, including both corporations and the U.S. armed forces. If soldiers are being sent into the field with iPads in their packs, why won't technical writers be expected to arrive at factories and power plants with them in their briefcases? (Our colleague, Dennis Owen, noted the inevitabilty of iPads as procedure carriers in a note at the end of our last post.)
iPads are becoming mini computers. There's a keyboard stand available for them now, though their built-in on-screen keyboard isn't hard to use. This post isn't meant as a commercial for Apple, just as a presentation of some thoughts the company's education event and our own experiences with an iPad thus far have prompted.
The challenges for technical writers are clear. You'll need to learn the software techniques for animating drawings and diagrams – but that just means following other drawings and diagrams, your speciality. More importantly, you'll need to think a bit differently, as a lecturer and curator rather than as "simply" a writer. – Doug Bedell
Comments
Recently
Categories
Archives
Blogroll