Posted on February 7, 2012
Filed Under Communication, Technology, The Writing Life | Leave a Comment
Here's a lady who understands a prime component of good technical writing, or any writing, for that matter:
"What all the (technical writing) disciplines share in common is a need for the writer to communicate effectively within the perspective of user need from the document, and to have a strong awareness of good ways to enhance the message through visuals and good use of white space."
The sentence, by Christine Lebednik on the Street Articles site, is a trifle awkward in terms of what a user needs from the document he or she is reading, but it gets to the two essentials of good technical writing: tight, clear expression of why the document exists (a means to a given, safe end), and ways to enhance it with illustrations and white space.
Christine isn't in technical writing any longer. When she was, though (prior to the bursting of the IT bubble in 2001-02), she was most familiar with the fields of aviation, medical and pharmaceutical writing.
Our colleague, Dennis Owen, notes that there are many other settings in need of good technical writing. Start by looking around your house, or out the window: "IKEA furniture? Someone had to write the assembly instructions. Component stereo or flat screen TV? Someone had to create the connection and installation diagrams. Smart thermostat? Hell, mine has an entire booklet (and it's still hard to program). Car? The owner's manual is a serious example of technical writing. On and on…"

In short, needs for clearly expressed instructional guidance are all around us in our technologically grounded civilization, and some are met more effectively than others. (I'd like to send the writer(s) of the instructions for our videotape/DVD player/recorder, and the designers of its remote controller, to the stocks.)
In this vein, a little extra creativity doesn't hurt now and then, though it's often hard to get it past the ultimate editors. Dennis recalls how he once did a technical report "on nuclear plant applications of auto ID technologies: bar codes (there must be at least a dozen different symbologies), 2-D bar codes (a huge amount of information in a tiny space), RF transponders, and so on.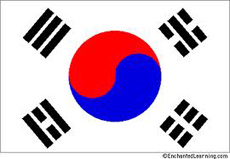 "We think of bar codes as being a modern invention, but in researching the topic I found the South Korean flag. Have you ever noticed the little bars on the flag?…they are bar codes! They're called trigrams and encode a whole bunch of information about nature, virtue, family, seasons and more. (See the Wikipedia article on the South Korean flag.)
"I thought this was really cool and put an interesting historical perspective on the technology. So I wrote a sidebar in the report on the topic…boy, was I proud of how I wove this into a highly technical report. Alas, the editors cut it as being irrelevant…but at least I've never forgotten the topic."
So, it's likely, would many of the report's readers have retained a little whimsical information if they had had the opportunity. But, in technical writing, the editors are iron-fisted.
Yet, Dennis observes, "When I write something that's well thought out, clear, and concise I get a rush out of it. I enjoy looking back and saying, "Damn, that's good."
"I believe it is completely analogous to an artist stepping back from a painting and admiring how he exactly caught the essence of something." And so it is. – Doug Bedell
Comments
Recently
Categories
Archives
Blogroll