Posted on February 13, 2012
Filed Under Business, Communication, Government, Technology | Leave a Comment
Question: We have such great tools to make things better, so why do we feel in such a funk? A dismal question like this can apply on any given day to the state of our nation or our workplace, if we're fortunate enough to have one.
Steven Ouellette is a quality manager and process engineer who is also an incurable optimist. He addresses our dire question of the day with methodology to produce a more upbeat answer than we ourselves may have at hand.
"I'm no self-help guru," Ouellete writes in a Quality Digest column, "just a process engineer. But I do think we need to change something about our collective software. We live in an age of man-made miracles that would have astounded even our recent ancestors. Yet, as the great modern philosopher Louis C.K. says, "Everything is amazing, and nobody's happy."
So what do we do, rebuild the factory? No, make it work better and more reliably, by using proven methods, not raucous rhetoric.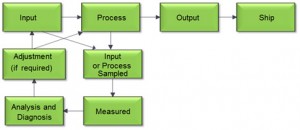 There's still a big role for the quality movement and the methods it uses to produce noteworthy results. Like, Ouellette advises, measuring inputs to forestall worrying about outputs. That's the latest iteration in a journey that began with the work of W. Edwards Deming, Joseph Juran and Arnold Feigenbaum in Japan in the 1980s.

"It is what it is," isn't an acceptable answer to the dilemmas of our times, Ouellette feels. We join him in that. We've seen too much good accomplished when people determine to do things differently.
"Habits of thought have real consequences….How can something as ephemeral as an idea or thought in one person's head – nothing more than electrochemical cascades in an isolated bone container – have any effect on reality? And yet it does."
Read Ouellette, get acquainted with his methods, share them with friends and associates and see where they take you. It's likely to be to a better place than you might have imagined. – Doug Bedell

Comments
Recently
Categories
Archives
Blogroll