Posted on March 20, 2012
Filed Under Business, Technology | Leave a Comment
So now for the question of the moment: Can video games be considered art?  You think not? Well then, you're crossing (laser) swords with Kellee Santiago, cofounder and president of Thatgamecompany in Santa Monica, CA. They've just issued a new PlayStation game, Journey, that's been three years in the making and strikes us as having aspects of art. It's beautiful and apparently soothing, wherever the journey is headed. (Actually, VentureBeat/Gamesbeat notes that Kellee's company is noted for avoiding violence in its games.)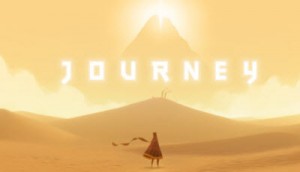 Kellee feels strongly about the aspirational aspects of game playing. In 2009, she told a Ted x audience that electronic games "will become more powerful in the 21st century than radio, film and TV combined over the course of the 20th." Wow! There certainly have been failed, truly dispiriting aspects of TV and radio, but movies seem to be holding their own, as creative and beautiful, occasionally, as  Kellee's ideal games. In the context of sand, Journey's apparent setting, remember  Lawrence of Arabia?

We don't mean to get into a debate that's beyond our depth. The only point we're making is that virtually any creative activity can approach art if it's worked at deliberately and energetically enough. Note, though, that we've said "approach." Because it's true that art involves a magic element of creativity that is either there or not.
From the preview screens, that sort of beauty appears evident in Journey, which means that Kellee is likely to win her debate with critic Roger Ebert, who has said that video games can "never be art." "Never" is best not to use most most of the time. There's always someone, like Kellee Santiago and her colleagues, who's likely to prove you wrong.
Creativity is to be cherished whenever it appears, as art, or less portentously,  as a yearning for meaning or engaging entertainment. In the vernacular, it's either art or it's neat. – Doug Bedell
Comments
Recently
Categories
Archives
Blogroll