Posted on April 10, 2012
Filed Under Technology | Leave a Comment
Maker Faires look like places where art and technology come together, unless you consider technology an art in itself. But some would find that arrogant. So what's a Maker Faire?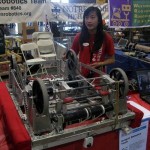 Many of you may already know, because Make magazine is doing a terrific job of promoting its technology fairs and building community around them. (Building and maintaining a community is an art, too, of course.)  I stumbled upon Make magazine  while surfing the web recently (Dennis Owen, my asssociate, is Encore's actual technologist).  And besides the magazine, there was a Maker Fair tab and promotions for two types of fairs – big and smaller. Maker Faires are coming up in San Mateo, New York's Queens,  Seattle, Detroit and Kansas City, while Mini Maker Faires (the smaller ones, obviously) are scheduled for later this month in Lubbock, TX, Westport, CT, and Burlington, NC. If you click on the calendar link, you'll find both types of fairs all around the world!

The festive nature of Make-associated fairs amounts to a folk-like expression of creativity. There's evident enthusiasm about being able to display your hard and software projects and a Maker Faire is a place to do just that. The prospect of an upcoming fair can provide a reason for people to polish off technologic creations they may not have expected to be on public view, at least so early and receptively. Community is generated by people acting together, as in staging a technology fair.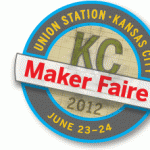 Maker Faire booths are projects in themselves. "When I attended my first Maker Faire Bay Area in 2010," Nick Normal writes on the Make website,  "one thing I was especially impressed by was the level to which makers took their booth designs. Taking into consideration signage, traffic flow, points and levels of interactivity, and supporting material, it was like the science fair & craft market of my dreams!"
Yes, if you think of technologists as gnome-like people laboring in caves or flourescent-lit basements, you'll be reassured by the evident bright, festive and crowded nature  of a Maker Faire.
Our congratulations to a magazine, Make, so enthralled by its subject, technology, that it's been creating global showplaces for it – and spreading enthusiasm for community creativity and display as well. – Doug Bedell
Comments
Recently
Categories
Archives
Blogroll