Posted on April 23, 2012
Filed Under Business, Technology | Leave a Comment
Now here's a book that ought to be on technical writers' shelves, at least if you're inventive or are working with people who are good at coming up with useful gimmicks. Inventiveness implies trips to the the U.S. Patent office, or at least filings there. And how many of us know reliably how to win a valid patent?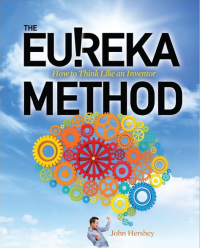 To that rewarding end, James Floyd Kelly, writing on Wired's GeekDad blog,  recommends John Hershey's book The Eureka Method: How to Think Like an Inventor. "As a technical writer," Kelly reports, "I often find myself being introduced to inventors and tinkerers via friends and colleagues.  Sometimes these hands-on folks are looking for help with documenting a design or process, and I try my best to offer up advice or sometimes assistance."  In the course of "creating instructions or verifying step-by-steps" Kelly often gets asked about patent law.

He well may reach for Hershey's book, or at least recommend it. Not that it's an easy read, despite its sprightly cover. "This isn't a book for light reading," Kelly notes. "It's got some complex information in it, mainly through the inclusion of actual products that have been designed or improved and have been in need of proper documentation for the patent process. It's 230 pages of personal advice from the author as well as careful explanations of the various requirements that a patent submission will require."
Fair enough. If that's what it takes, that's what it takes if you're close to making a mint from an insight of genius, or at least being on record for it. Hershey's book has valuable appendices on patent arcana and seems a treasure if you want to get your gizmo officially recorded. – Doug Bedell
Comments
Recently
Categories
Archives
Blogroll