Posted on May 1, 2012
Filed Under Technology | Leave a Comment
It's spring and time for engaging in outdoor activity again! There's a rail trail near us – the Lebanon Valley (Pa.) Rail Trail – that follows the 14-mile length of an old railroad right-of-way from which the tracks have been removed. It's great for hiking and biking, whether for short stretches or the whole length.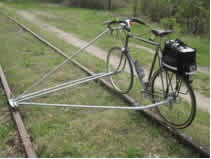 But what about unused rights-of-way where the tracks still exist? If there's a stretch like that in your area, you'll likely agree that track-walking isn't at all the same as walking a trackless path haunted by a railroad of yore. You get to counting the ties, or maybe tripping over a rail. That's why this technological creation of a rider known only as "Will" on BickHacks.com intrigues us. With some securely attached tubing, and no welding required, this rig looks mighty inviting for a ride on abandoned rails.

Of course, as a comment on Will's post warns, you need to be sure that traffic on the rail line is indeed defunct, or you might be surprise an engineer and his accompanying train, who have the exclusive right-of-way. But an attractive feature about hiking or biking on unused rail lines is that they have only gentle grades,  which maintain your stamina longer. They also seem usually to cut through attractive, otherwise unmarred countryside.
If the right precautions are taken, we'd love to take a turn with a properly rigged bike on idled trackage at this time of year. It's sad to read, however, that this particular example came to an untimely end. "Seems I became a bit to confident in my design," Will reports, "and while traveling at somewhere around 16 MPH I had a derailment.  The guide in the bike side caught a rail tie stopping the bike immediately, and as I was traveling over the bars, the frame bent behind the lugs at the head tube, seat tube and bottom bracket, so the frame is a total loss."
Maybe Will's design needs to be revisited. But a bike-to-rail conversion is an inviting concept, given some technical artistry, for a springtime jaunt on a retired rail line. – Doug Bedell
Comments
Recently
Categories
Archives
Blogroll