Posted on June 25, 2012
Filed Under Communication, Technology, The Writing Life | Leave a Comment
This post isn't about technical writing. It's about writing plain and simple – handwriting, indeed, cursive writing. Cursive writing is under attack in our digital age, this coverage from South Carolina being the latest example we've seen.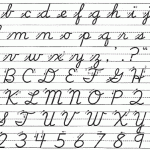 Since, the argument goes, practically everything is typed, emailed or texted these days, what's the point of having kids tediously learn handwriting? Well, what about those moments when a keyboard – full-, iPad-, or pocket-sized – may simply not be at hand, or when your signature is required, or when you may want to make a more personal impression?
We're all for technology; it's Encore's business, after all, including taking notes and writing about the subject. But, Wikipedia reminds us, the ancient Hebrews and Romans wrote in cursive – although, we must acknowledge, they didn't connect their letters. When that's done, as in modern handwriting, it's called connected cursive.
In a TV report from Horry County, S.C., we learn that, while the state's schools are not obligated to teach cursive writing, there are no plans to drop it, though the subject has been discussed. Sounds a little ominous.
What concerns us most about potentially deleting the ability to handwrite, aside from how signatures would be handled, is the fact that cursive writing – handwriting – is, as one young man who was interviewed noted, a form of communication and that losing it would cramp our ability to relate to others smartly and virtually instinctively. Handwriting, especially note-taking, is an enhancement of thinking. (We won't even note that the U.S. Constitution and the Declaration of Independence were handwritten because, obviously, there was no choice then.)
As an older man in the TV report notes, kids – indeed, all of us – need to learn to solve problems and we won't always have computers handy to help with them. So how would our grandchildren and great-grandchildren go with the flow, be fast on their feet, without a ready form of written expression?
The case for cursive writing ought to be open and shut but, increasingly, we fear that it's slipping away. Maybe we can enlist the salespeople for pencil sharpeners and ballpoint pens in our cause. We'll leave eraser makers out of this. – Doug Bedell
– A colleague provides an example of how cursive writing can function as a strategic tool:
"I like to think that I've passed on, in one small way, the benefits of cursive writing.  I told my daughter when she interviewed for her very first job as a teen to follow up the interview with an immediate handwritten thank-you note, not an email.  She reminded me of this just last week.  She decided she wanted to change jobs and interviewed with a company she very much wanted to work for.  It was a marketing position but a total change from her current marketing job with a biotech firm, so she didn't have experience or a track record in that industry.
"She said that she knew in advance who she would interview with so she pre-addressed and stamped thank you notes.  Immediately after the interview she went to a coffee shop, wrote out the notes, and mailed them.  She landed the job and I like to think that bit of common courtesy (unusual these days) played a role."
Comments
Recently
Categories
Archives
Blogroll