Posted on July 10, 2012
Filed Under Communication, Technology, The Writing Life | Leave a Comment
Just as blogs are providing new outlets for journalism so, too, are they producing a new generation of science writers. We've come upon one of them, Aatish Bhatia, creator of the blog Empirical Zeal, and he's someone to follow. It's a gift to explain complex material clearly and colorfully, and Aatish has that gift. Here, he's featured by Scientific American. 
Even when he's not writing about colors, as he is in his post "Crayola-fication of the World: How we gave colors names, and it messed with our brains," he's writing colorfully and clearly, as in "What it feels like for a sperm, or how to get around when you are really, really small."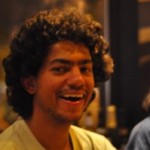 Aatish says his gift for chronicling science comes from growing up in a home where his father is a journalist and his mother a writer. "To a large extent," he adds, "my interest in science grew from reading popular science."  For how many others of us has that been true?
His "gateway book" was Surely You're Joking, Mr. Feynman. "It made my eighth-grade self realize that interesting people actually chose science as a career. That opened the door to a lot of other popular science authors. It became a bit of an obsession but to a large extent, these books guided my career interests."

Along with Feynman's books on physics, Aatis recalls, "In a similar way, when I came across Richard Dawkins' The Selfish Gene and David Attenborough's documentaries, I bean to realize that evolution is utterly fascinating. So it's not surprising that I jumped on to science blogs…"
For one of us here at Encore Technical Resources, much the same thing happened through magazines: Model Builder and Model Railroader. There you could find graphic articles about Frank Ellison's Delta Lines and John Allen's Gore and Daphetid basement empires. Ellison was a New Orleans newspaperman and Allen was a Californian with the imagination of a novelist. They got me into a building and electronic connection mode. And here, of course, I'm blogging.
What in the form of print on paper is turning kids on these days, or is print on a monitor's screen sufficient? How much attention are schools, if not parents, paying to instilling creativity in young people, or are they counting on it just happening? It may, or may not.
Such questions occurred, at any rate, in becoming acquainted with Aatish Bhatia, a gifted practitioner and explainer of science. We'll be hearing more of him, I expect. – Doug Bedell
Comments
Recently
Categories
Archives
Blogroll