Posted on July 13, 2012
Filed Under Communication, Technology, The Writing Life, Uncategorized | Leave a Comment
Friday the 13th has turned out to be my lucky day, in a tradesman's sense, at least. I've just come upon John Graham-Cumming's blog on technical writing and it's great to have discovered a kindred spirit who reaffirms what little I thought I knew about writing.  To the fullest.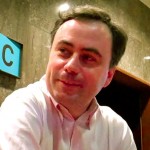 Graham-Cumming is a British computer programmer and writer. His pointers are right on the mark: Practice, Read, Listen to Editors, Think about writing, Think about the reader, Plan and Dream. That's it, and it's plenty.
Writing is a discipline, but a hazy one. There are explicit things to do, yet inspiration comes first, and that's where the dreaming comes in. Technical writers have it over their more creative colleagues in this respect, because their material is relatively "dictated," it's permissible parameters are clearer. Yet writing well always involves reflection and rededication, whatever the subject assignment. Hence the dreaming factor.

"What do I want to impart to my reader, and why?" is a writer's most critical question. So planning, too, is a close-in priority. It spills into organizing the actual text.
Thinking about writing apart from a given assignment or subject is important, too.  It helps attune the relevant brain cells and keep them ready to cooperate in your next explanatory endeavor. It also instills an appreciation for good writing, wherever it's found. Who can possibly forget his or her first encounters with someone as accomplished, for instance, as John McPhee?
"Throughout the writing of a non-fiction piece," Graham-Cumming advises, "it's vital to go back and read each paragraph as if you were your reader. Are the sentences themselves clear? Is the level of knowledge assumed correct? Do the paragraphs tell a story that leads the reader through the piece?
"I read and reread everything I've written."
That, in essence, is the writing process, a reader-centered one. It makes no difference if you've completed a challenging assignment on, or before, deadline if it won't relate well to your ultimate reader. Whether it's fiction or non-fiction, he or she needs to be drawn into your output. Good writing is information delivered clearly, understandably and engagingly. So think first of your readers and avoid what Graham-Cumming calls "the fog of knowledge." Clarity counts highly, no matter how challenging your material – or especially so if it's highly challenging.
And, as you move along in your writing endeavors, remember that you have a soulmate in John Graham-Cumming. – Doug Bedell
Comments
Recently
Categories
Archives
Blogroll