Posted on July 19, 2012
Filed Under Communication, Technology | 1 Comment
We're all adept note-takers, but we're not necessarily adept note-retrievers. While computers encourage note-taking and data-collecting, they don't necessarily make the retrieval of collected data a joy. Technical writers can testify to that.
The retrievability of information has to do not only with our computer's storage whims, but with our own brains. We like patterns and relationships, not simply stuffing material away, even in electronic form. That's why I'm big on the filing technique known as mind-mapping; it's a great organizing and retrieval tool.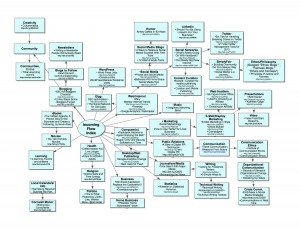 I'm especially mindful of the utility of mind-mapping, having created a clickable electronic archive of hundreds of downloads from Twitter and other sources all on one "sheet of paper".  It was done on Inspiration software and is quite an accessibility achievement (as pictured here; click on the image for legibility). Inspiration calls itself "the leader in visual thinking," which is another term for mind-mapping.
Each of the boxes shown is a container for tweets, or whatever, on that general topic and the one you're seeing is just the topmost entry.
I'm still adding to this electronic archive and don't know how I'll discover its limit, if it has one. It may vanish in an electronic puff, or something like that. But it's backed up, as they say.
I was made further mindful of the benefits of mind-mapping in coming across a TechSmith website called The Forge. There, Matt Pierce introduces us to Jamie Nast, who quit her corporate training job to become an exemplar of mind-mapping. He notes that you can use the technique for everything from creating videos (scene-by-scene or point-by-point to grocery lists, aisle-by-aisle presumably).
In addition to Inspiration, there's mindmapping software that can be downloaded in basic versions for free, like MindNode for the Mac, or in paid packages like TheBrain (formerly PersonalBrain, though I think an introductory version is available for free. But TheBrain may be Mac only).
So, if you're not already doing so, consider using a visual storage technique, aka mind-mapping; it likely will greatly increase your retrievability capability. – Doug Bedell
Comments
Recently
Categories
Archives
Blogroll