Posted on August 16, 2012
Filed Under Communication, Technology, The Writing Life | Leave a Comment
Here's a throwback to awareness in the present that technical writers – indeed, anyone who writes seriously – might appreciate. Wiley Brooks on the Business2Community site reminds us of Rudolf Flesch's algorithm-based readable writing tool. Drop in a body of text, press the button and get your score for clear writing. Wow!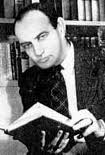 Flesch, Brooks notes, was a lawyer and refugee from Nazi Germany who "earned a Ph.D. in English at Columbia University, and then became a prominent professor there." He's pictured here.

Flesch's readable writing tool (link removed) used to be all the vogue in writing circles. It still has some utility, even for technical writers. It can't hurt to aim for greater clarity in any type of writing and Flesch's tool is a device toward that end. This text to this point scores 72.4, which is pretty good. It's higher than a dozen media outlets that Brooks lists. And Lincoln's Gettysburg address scored a 64, Martin Luther King's "I Have a Dream" speech, 66, and Barack Obama's inaugural speech, 73. Writing by lawyers tends to score in the 20s and 30s, Brooks adds.
"Keep tweaking your text until you reach the score you need," Brooks urges. "You can do it right in the top text box, then clicking (stet) the 'Get Results' button to see the change in your score. When you get it where you want it, simply copy and paste it back in your original document."
Brooks is writing for public relations people. His website is "PR Writing Class." You can actually enroll in an online writing class for $99, which isn't a bad price if your writing could use some polishing. The class takes about two hours. But see how you're looking on the Flesch tool first.
Technical writers, of course, aren't trying to advise the world of anything. They're simply trying to be clear about processes and procedures that other folks, many of them techies too, will be following, or trying to. Yet it never hurts to have another arrow in your quiver. And Rudolf Flesch's automated indicator is a good one to include. It can give you pause, and maybe send you back for another look at that last paragraph. – Doug Bedell
Comments
Recently
Categories
Archives
Blogroll