Posted on September 6, 2012
Filed Under Uncategorized | Leave a Comment
Now, here's a technical novelty. John Baichtal, community manager at the Make blog and magazine, features a homemade geiger counter that looks like an "old-timey cathedral radio with a detachable wand," rather than the usual metal box with a dial on it.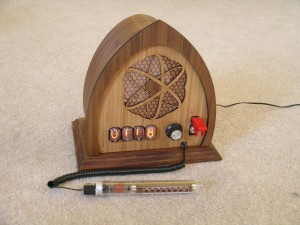 It's a beautiful job, we think you'll agree. Geiger counters like this would add some serenity to a few nuclear power plants we know. It was made by somebody with the web moniker "moustachenator." But all we can find out about him (we presume, but maybe we shouldn't) on YouTube is that he's apparently 65 and lives in the U.S. The "count" numbers flash on nixie tubes.
The builder details the 12 steps that were involved in creating this antique-looking counter. Congratulations to "moustachenator" the maker, indeed! – Doug Bedell
Comments
Recently
Categories
Archives
Blogroll