Posted on September 23, 2012
Filed Under Government, Technology | Leave a Comment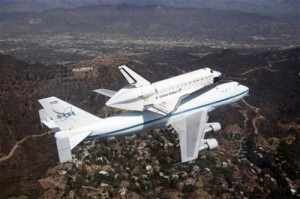 Endeavor and its Astronaut crews were stars alright. A NASA photo distributed by the Associated Press shows the space shuttle, atop a NASA 747 jumbo jet, flying over the Hollywood sign as it approached Los Angeles International Airport on Friday. There, Endeavor will be prepared for a 12-mile road trip to the California Science Center, where it will go on permanent display.
Friday's flight from Edwards Air Force Base in the Mojave desert came after Endeavor tallied 123 million miles in 25 trips into low-Earth orbit. We all can recall some of those launches in straight-up blasts atop a carrier rockets. The last one was on May 16, 2011 with Endeavor under the command of Mark Kelly, the husband of Rep. Gabrielle Giffords. Endeavor replaced the Challenger shuttle which exploded during liftoff in 1986.

NASA is now aiming for manned missions to an asteroid in 2025 and to the planet Mars by the 2030s. Before U.S. men and women go back into space, much farther out than before, NASA and its contractors need to do lots of engineering and development work. That will be another era, but one made more credible by Endeavor's epic flights. – Doug Bedell
Comments
Recently
Categories
Archives
Blogroll