Posted on October 7, 2012
Filed Under Business, Government, Technology | Leave a Comment
Whichever candidates win these elections, when we get back to governing, it can be hoped that a high priority will be given to sensible immigration reform. We keep reading about talented people, capable of contributing greatly to U.S. fortunes, who have returned home because their visas expired. It simply doesn't figure that skillful, inventive people would be sent packing by a country – the U.S. – that needs them.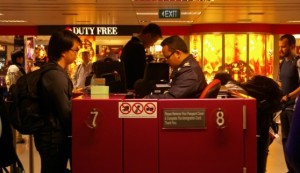 The latest such report we've seen comes on the Venturebeat.com site by Samantha Huang, a research assistant at Stanford Law School. She leads into a new book, published by the Ewing Marion Kauffman Foundation, reporting that "high-tech, immigrant-founded startups – a critical source of fuel for the U.S. economy – has (stet) stagnated and is on the verge of decline." Press release grammar aside, this book appears to pull together the dire evidence that we are starting to send more foreign-born entrepreneurs home than we are welcoming. How can that be in a nation that needs every source of brainpower available to it?

Today's economic conditions are puzzling. Nobody, including the Federal Reserve Bank, appears to know with any assurance why U.S. economic growth is so tepid. Instead of cheering on creative people who have been trained at U.S. colleges and universities, should we be sending the foreign-born among them home? No way.
"'America's New Immigrant Entrepreneurs: Then and Now,'" says the aforementioned press release, "shows that the proportion of immigrant-founded companies nationwide has slipped from 25.3 percent to 24.3 percent since 2005. The drop is even more pronounced in Silicon Valley, where the percentage of immigrant-founded startups declined from 52.4 percent to 43.9 percent…
"For several years, anecdotal evidence has suggested that an unwelcoming immigration system and enviroment in the U.S. has created a 'reverse brain drain.' This report confirms it with data," says Dane Stangler, director of Research and Policy at the Kauffman Foundation. "To maintain a dynamic economy the U.S. needs to embrace immigrant entrepreneurs."
Founded by Edwing Kauffman, who built Marion Laboratories into a global presence before selling it to Merrell Dow in 1989, the Kauffman Foundation is based in America's heartland, Kansas City, Mo., not on either coast. But Kauffman, who died in 1993, "wanted to help young people, especially those from disadvantaged backgrounds, get a quality education that would enable them to reach their full potential."
Should we be sending foreign-born people who are discovering their highly promising potential and want to apply it in the U.S. home? You would hardly think so. But that's what's been happening with increasing regularity at America's immigration portals.
For whatever reasons, the exceptions to the downward retention trend are immigrants from India and China. We're happy for them, but not so happy for us, that many other promising, U.S-educated young young people are being sent home.
When the elections are past, we need to get our eyes back on the ball in many ways. That includes insuring that creative young people, including those who are technologically adept, who may have been born abroad but want to flourish in America are allowed to do so, for their benefit and ours. – Doug Bedell
Comments
Recently
Categories
Archives
Blogroll