Posted on October 14, 2012
Filed Under Business, Communication, Technology | Leave a Comment
Felix Baumgartner's jump from the edge of space this afternoon demonstrated a lot of things, but one, surely, was the potential of the Internet as a real-time TV channel for the entire world. This time it was Red Bull energy drink and its space-jump team taking advantage of the new worldwide web "channel." Who might it be in the future?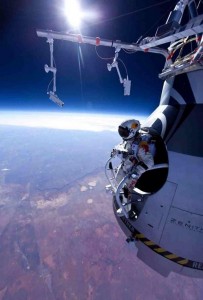 That's a question worth considering, but there's no ready answer, because we can't predict the future. Yet it struck me that, at least during the brief time I checked before Baumgartner stepped into space, the usual Sunday chatter was continuing on the regular TV channels, as though they had suddenly become irrelevant. Nobody but RedBullStratos.com on the Internet was covering the space adventure live.
There a daredevil Austrian athlete was climbing to an altitude of 128,100 feet, or 24-plus miles, dangling in his capsule from a tear-dropped-shaped balloon. Anticipation kept building as Red Bull's broadcast furnished the steadily increasing distance from Earth.
As my colleague Dennis Owen noted later, NASA served up some pretty exciting adventuring with its early space flights. But there, the astronauts remained confined to their cabins until they landed, whether on the moon or back on earth. Here, after a two-hours-plus ascent, Felix Baumgartner stepped into the sky from a platform hardly wider than a skateboard with a parachute strapped to his spacesuit. We bet NASA's entire staff was watching from whatever computers they had at hand on a Sunday.

After a four-minute, twenty-second freefall, during which Baumgartner broke the sound barrier by a twenty percent margin, his chute opened and he finally landed, close to a convenient New Mexico roadway, on his feet. Spectacular indeed!
Another thing about Red Bull's broadcast that struck us was that the CAPCOM, or capsule communicator, was 84-year-old Joe Kittenger, a retired Air Force colonel who held the existing record for the highest skydive, 102,800 feet, which he set in 1960. (In another demonstration of the Internet's topical readiness, Baumgartner had already displaced Kittenger this afternoon as the new record holder in Wikipedia's article on Kittenger.)
Kittenger cheered and checked the 43-year-old Baumgartner throughout the younger man's flight. He ran through a checklist of more than 30 items with him twice during the ascent, once for practice and the second time for real. "Okay, we're getting serious now, Felix," he said during the second run-through, when the capsule was at 127,000 feet and the balloon by then in the shape of a grapefruit. And a little later, it was, "Okay, Felix – from now on we're really serious," that as Baumgartner prepared to step into space.
At the Stratos post-mission press conference later on, a reporter asked Baumgartner what his next feat might be. He didn't have a ready answer, except to say that, someday, he hoped to be sitting where Joe Kittenger had today, with a younger man being hailed for another new record. It was a nice touch at the end of a heroic, Internet-provided adventure. But there was no generation gap today in space. Kittenger knew exactly what Baumgartner was doing. – Doug Bedell
(I should note that one of our sons, Bruce Bedell, is a Red Bull marketing manager. But like I said above, I'll bet everybody at NASA was watching today, too. Baumgartner's jump was an epic event for anyone to view. – DB)
Comments
Recently
Categories
Archives
Blogroll