Posted on October 31, 2012
Filed Under Technology | Leave a Comment
After you get past pencil and paper, what sort of tool kit is necessary to be effective as a technology tech? That depends, of course, on the job at hand. But for carrying your wires, crimps and caps, along with the tools to install them, there are a host of carriers.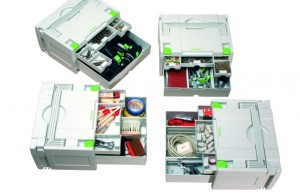 One of the newer ones caught our eye for its handy-dandy convenience, and then it raised our brow for its high price tag. There's also its tongue-twisting name: the Festool Sortainer.
"In just a couple of days," writes Stuart Deutsch on Make, they (Sortainers) have "have proved to be among the most versatile and effective small tool and parts organizers I have ever used." With drawers of different sizes, Sortainers are, indeed, a means of keeping small-to-tiny parts well-organized. And, if you need more than one, they're readily stackable as well as handy to carry. They've got big, sturdy, fold-away handles.
Yet they sell for $140 a unit, a bit pricey, as Deutsch notes. But he adds that "their quality, utility, and elegance justify the one-time investment." That depends, we suspect, upon how serious a technician one is.

Still, in design terms, Sortainers have our old catch-all, mingle-together tool kit clearly beat. When it comes to their evident utility, it's not even close. – Doug Bedell
Comments
Recently
Categories
Archives
Blogroll