Posted on November 12, 2012
Filed Under Education, Technology | Leave a Comment
Educators are continually faced with the challenge of upgrading the image of vocational or technical education into one that's representative of currently pertinent, enticing career fields. That's increasingly important as the costs of four-year colleges become steadily more prohibitive. (For a lot of families, they've already passed the manageable point.)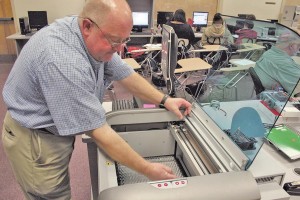 So it's encouraging to see, in a post in the Picayune Item, a school district in Mississippi changing not only the name of its "technical applications" classes but upgrading the nature of the training itself. It will now include "3D printers, Vex robot kits, a laser engraver and a state of the art milling machine." That's an encouraging way to prepare young people for the realities of today's technical workplaces, those in which they can be at the vanguard of their fields.

Picayune Memorial High School landed a $150,000 federal grant that was sought by Christie Pinero, its vo-tech director. ("Vo-tech," itself, is a term that needs to be retired. Anyone want to sponsor a contest for a current-times replacement?)
Lessons in the updated classes will all be computer-driven. The students have to solve problems on their computers before creating robots or parts in actuality. This is a great way for them to discover and nurture talents they might not have known they have. USB ports with content-laden plug-ins are becoming as familiar to the students as textbooks.
Each year, seven Mississippi schools are selected for vo-tech grants by the state legislature, and more then seven always apply. That's heartening awareness of the need to keep current and growing in a high-tech world. Students and administrators, alike, apparently are sharing that awareness in Mississippi's schools.
A great way to show students that they and their potentials are being taken seriously is to equip them, not only with inspiring teachers, but with challenging, state-of-the-art gear. That's seems to be widely understood in Mississippi's vocational schools.
With the ability to accomplish practical applications in high-tech settings, students are extending their capacities into areas they might well have forsaken otherwise. "It's all physics, but (the students) don't realize it's physics," says the sales manager for a Picayune-area business.
This all represents a highly encouraging approach both to upgrading education and inspiring students to become the beneficiaries of advanced technology and new methods. Everybody seems to be extending themselves confidently into the future in Mississippi's technical schools. – Doug Bedell
——
When it comes to replacing the "voc ed" term, Dennis owen likes "applied technology."
Comments
Recently
Categories
Archives
Blogroll