Posted on December 7, 2012
Filed Under Business, Communication | Leave a Comment
Here's a writing blog I've come across and intend to follow – it's by Clay Spinuzzi, a specialist in organizational communication, and is simply called "Clay Spinuzzi." He's got a new book on communicating in workplaces titled Topsight. (It may not be quite published yet.)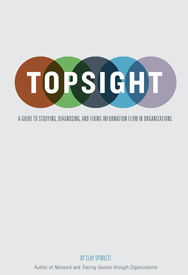 What's so compelling about organizational communication? A lot, if the discipline is taken seriously and practiced well. Technical writers can contribute to assessing and improving the state of communication in their own organizations. That's because good communication is a systematic discipline – it doesn't just happen.  It requires processes and procedures, not stultifying rule books, but simple, readily understood and maintained roles and methods for communicating effectively across an organization.
Like, "Keep listening" to what an organization is saying and yielding as it goes about its daily business. Are its activities and achievements in line with its goals and objectives? That's where good organizational communication starts. You need to have goals and objectives, as well as an organizational vision and values, to light the way.

Attempting to make the rounds of a sizable organization without these beacons is like trying to find your way around a newly-entered city without a map. You have to know where you, or your organization, are heading.
Clay Spinuzzi is an associate professor of rhetoric and writing at The University of Texas at Austin. He studies workplaces and how people circulate information through them. His earlier books (Topsight is his latest) were Tracing Genres Through Organizations  (2003) and Network (2008). He looks to be in a category with Clay Shirky at New York University in his appreciation for the systematic aspects of communication. The subtitle for Topsight is "A Guide to Studying, Diagnosing and Fixing Information Flow in Organizations." Who, and what organization, couldn't profit from having insights like that?
Topsight is concerned with getting the lay of the land in an organization, by conducting a "field study" of one. The more methodical your approach to good organizational communication is, the more credence your results are likely to have. Clay Spinuzzi's new book looks like a good place to start, or if you've been in the field for some time, a place to make self-renewing calibrations. (How's that for applying technical lingo to in-house communication?) – Doug Bedell
(From the University of Alabama, there's also Applied Organizational Communication, Theory and Practice in a Global Environment, by Thomas E. Harris and Mark D. Nelson.
Comments
Recently
Categories
Archives
Blogroll