Posted on December 19, 2012
Filed Under Communication, Technology, The Writing Life | Leave a Comment
Oh dear, an august research paper reports that, at least when it comes to computers, people don't read their manuals. "The median proportion of the times that participants reported solving problems with computer applications by using printed manuals was 0 percent," the paper's authors, David G. Novick and Karen Ward, advise.
Computer users reported they were as likely to ask for someone's help as to read even online help.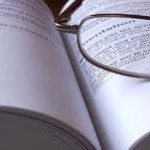 That's hardly an endorsement of technical writing in the computer biz, at any rate. But when you think about it, computer manuals should be among the most accessible examples of technical writing.  They're  presumably written for a mass audience. Computer users aren't required to read their manuals, but they don't consult them anyway. Where does that leave technical writers? If we're not required reading, will we have any readers? And if we are required, will we be read closely enough?
The stakes can be pretty high here, even if a tech writer's readers aren't working in a nuclear power plant or a hospital. You want processes and procedures to be taken seriously, to be absorbed by their users. That's a prime reason for writing them out.

All of this argues for producing the most efficient technical writing possible. First, put yourself in a user's shoes. How much patience is he or she likely to have? Not much, apparently. And you can't simply hope that your reader  will be conscientious enough to hear (that is, read) you out.
We haven't read Novick and Ward's lengthy paper, only the conclusion. (Researchers aren't necessarily fated to be read, either.) But they note there that "Most of the participants in this study…were busy professionals who may not have felt that they had time to spend in exploring either the application interface or the documentation to find an answer." Busy professionals in any arena – aren't they a technical writers most likely presumed readers?
There's reason enough here to read Novick and Ward's full paper, and to give its findings  and recommendations earnest consideration. We hesitate to digest them. They deserve to be read in full, like any well-written technical manual. – Doug Bedell 
Comments
Recently
Categories
Archives
Blogroll