Posted on January 8, 2013
Filed Under Business, Communication, Technology, The Writing Life | Leave a Comment
It struck us recently that technical writing is a lot like covering a newspaper beat, which we did many years ago. Only now you don't need to leave your desk and computer screen. Then, you had to pop on a telephone headset or hop in you car and head for wherever your latest story might be unfolding.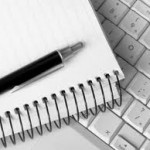 These reminiscent thoughts occurred on happening upon on an article, "How to Master Technical Writing," on the eHow website. We once covered the police beat, then the labor beat, for a big metropolitan daily. The labor beat began evolving primarily from covering labor unions to workplaces, and worklife, in general. And that's when the parallel with technical writing becomes most apt.
"Understand proper technical writing format" goes almost without saying, but it heads eHow's list. You need to know who you're writing for (Point No. 2) and what their expectations are. There's a difference between reporting for a family newspaper (which ours was) and a tabloid (the competition). You need to be clear on your readers' expectations. Basically, we suspect, they're involve accuracy and pertinence to workaday needs or aspirations.

Then, "Master your topic." Your not going to be providing rules or life-enhancing information if you're not clear, from your own perceptions, about what you writing about. At least that's our fondest hope. At the newspaper, there was always the city desk and beady-eyed copy readers. In technical settings, there are always managers, yours, who know what they, and your enterprise, need.
The only one of eHow's strictures that might not apply to workaday technical writing (it certainly didn't to newspapering) is "Put together an annotated bibliography." You likely don't need to increase a procedure's complexity with a bibliography, but maybe so. Again, be clear about your purpose.
Also, for many technical writers these days, "Prepare your report for delivery" likely has more to do with their computer screen then "the quality bond paper" and card stock binding that eHow advises. But final proofing before yelling "Copy!" or hitting "Save" is essential.
So treat your technical writing job like a beat that you're roaming, and do so diligently and carefully, and you'll be fine. Unless your employer goes out of business anyway, as ours, in our newspapering days, did.
Of course, in technical writing  you don't want to be dressing documentation up, either. "Just the facts, clearly and accurately presented, please." – Doug Bedell  
Comments
Recently
Categories
Archives
Blogroll