Posted on February 20, 2013
Filed Under Technology, The Writing Life | Leave a Comment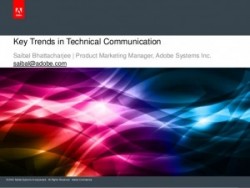 Here's an interesting slide presentation by an Adobe Systems Inc. manager, Saibal Bhaattacharjee, on "Key Trends in Technical Communication." It was presented at the recent MEGAComm annual conference.
In a way, calling attention to the latest tech writing techniques shows how broadminded Encore is. That's because Dennis Owen, our principal, works primarily on procedures for nuclear power plants, where new technologies don't take hold nearly so fast as elsewhere. And that's fully understandable.
"You can't even get a wireless signal for your iPad in most parts of a (nuclear) plant," Dennis notes. "Indeed, plants don't even want wireless devices because some plant equipment is sensitive to RF. And sometimes when you are in two layers of protective clothing and wearing a respirator while crawling around pipes and equipment, a paper procedure stuffed into you pocket is hard to beat." Formatting for conditions, you might say.

Even so, the proliferation these days of devices and styles for technical documentation is nicely illustrated in Saibal's presentation. We recommend it as a "state of the art" report for the TW brethren. – Doug Bedell
Comments
Recently
Categories
Archives
Blogroll