Posted on February 28, 2013
Filed Under Communication, The Writing Life | Leave a Comment
Now here's a writer I want to get to know better. George Saunders has progressed from technical writing to the pages of The New Yorker and, now, his novel, Tenth of December, is No. 3, on The New York Times best seller list for fiction. Not bad for plugging away at saying well what you need to say, either for co-workers or the public.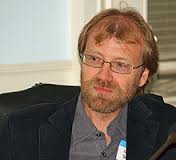 Saunders spoke recently at William & Mary College. A press release for that event quoted Junot Diaz, a Pulitzer Prize winner for fiction, as saying of him, "There's no one who has a better eye for the absurd and dehumanizing parameters of our current culture of capital."
Now, did you ever think that all the quests for approval, after requisite revisions, that technical writers go through, one of them would rise to such an estate – "a better eye for the absurd and dehumanizing parameters" of our times? Just shows where conscientious diligence, and talent, can lead. You don't want to be thinking absurdity as you walk, say, through a nuclear power plant. But if diligence in a workplace setting leads to skills and insights that spill into best-seller fame, so much the better.

I checked Saunders' most recent New Yorker blog post and found him recalling his reading, at 17, of Ayn Rand when they both mutually "raped" each other. "Each grasped, in the unflinching gaze of the other, a silent acknowledgment of the nobility of man, especially as manifested in work, the work that purified the soul the way steel is purified in the smelter. That sort of thing."
"…And sometimes," he adds, "after that we'd go to Denny's."
This is one cool guy.
Saunders graduated in 1981 from the Colorado School of Mines with a Bachelors Degree in geophysical engineering. In 1988, after he'd been working as a technical writer and geophysical engineer for an environmental engineering firm, a couple of prescient literary boosters lobbied for him to be accepted into Syracuse University's master's of Fine Arts program, where "his background made him an irregular candidate for the prestigious program."
"I was aware," Saunders recalls in the William & Mary release, "that many of the other students were from Ivy League English departments, whereas my undergraduate degree was in geophysics…So while the other students knew all about Shelley and Keats, I knew about Alfred Wegener, the father of plate tectonics, whom we affectionately used to call 'Big Al.'"
Honesty breeds affection, so we can feel good feelings building in waves for George Saunders as he progresses through the writing trade. – Doug Bedell
Comments
Recently
Categories
Archives
Blogroll