Posted on March 6, 2013
Filed Under The Writing Life | Leave a Comment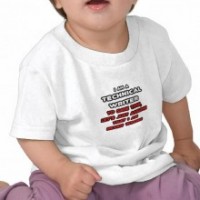 You want to instill goals and ambitions into young people, say, your grandchildren? We thought so. With their aspirations in view (by you, if not yet them), you might want to equip them with this inspirational Zazzle baby's T-shirt.
We're not selling them, just referring parent or grandparent Insights readers to a source of inspiration – for your youngsters, and for you, who will be paying their bills. Dennis Owen came up with it, actually. Nothing like inculcating aims and aspirations at the earliest opportunity!
But how do you ascertain that your youngster has promise as a technical writer and not a violinist? Hey, we just handle the writing. Answers to questions like that need to be sought elsewhere. – Doug Bedell
Comments
Recently
Categories
Archives
Blogroll