Posted on April 15, 2013
Filed Under Education, Technology | Leave a Comment
Now, thanks to the Internet and blogging, you can be alongside practically anyone trying to do almost anything – like exceeding 400 miles-per-hour in a streamlined electric car. And you learn that the ones trying to set that mark are students at Ohio State University, which created TRC Inc. (the Transportation Research Center). That's where development of the vehicle, the Buckeye Bullet, has been underway. The current version is the Bullet 3. Ohio State students have been developing electric racing cars since the 1990s. What's an "early age" for enterprise anymore?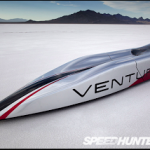 We happened upon news of this pending exploit on the web, of course. But these are automotive students, however. Their website doesn't clearly explain where they currently are, which makes it a bit frustrating to cheer them on.
Roger Schroer, a TRC technician and apparently a speed car driver, we're advised on an undated TRC page, will be heading to France late this month (we presume) to link up with the Federation International de la Automobile FIA, "the predominant international sporting body which regulates motorsports." We haven't heard anything yet about this automotive exploit in the news media, but if it's yet to be held, we hope we will. The "kids" deserve the attention.
(Roger, incidentally, expects to be driving ((or drove)) a replica of the first vehicle to exceed 100 KMH ((62 MPH)) – the "La Jamais Contente," or "The Never Satisfied," while he's in France. That event occurred in 1899. Never satisfied, indeed.)
While the Buckeye Bullet blog exists, the latest streamlined car itself hasn't been completed yet; it's in progress. This February's Scientific American had an article on it – "The Battery-Powered Bullet." It looks like a one-finned firecracker being readied to set off at the Bonneville Salt Flats in Utah. (The Bullet 2 topped 300 mph there. You can watch it on YouTube.) You can follow this high velocity effort on Twitter, where the Bullet is being chronicled by "the fastest Tweets on earth." One from a while back reads, "countdown to spring break: 10 days finally a chance for a solid bullet work week!" (Geez, and all we did during spring break was…)
Whatever the exact status of the latest Bullet may be, you can't expect engineering students to have press agents, too. Tuition only goes so far. These kids have been doing great work, and we cheer them on! (Here, from Wikipedia, is as much of the history of the program as we can put together.) – Doug Bedell
Comments
Recently
Categories
Archives
Blogroll