Posted on May 7, 2013
Filed Under Communication, The Writing Life | Leave a Comment
Here's a young man we know nothing about except that his name is Black, just that, and can he handle a yo-yo! First one yo-yo, then two of them together. He's thrilled a TED audience and, now us, watching that performance. So what's there about a yo-yo that's so awesome? It's not the yo-yo itself, two half spheres with a string tied around their axis peg. (At least that's how my yo-yo was set up when I was a kid.) It's the skill that brings it the level demonstrated by Black, who's  twice become a world yo-yo champion.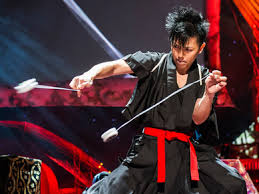 Skill honed by dedication. That's at the heart of any craft mastery. At 14, Black got a yo-yo, discovered he enjoyed twirling it and, 10,000 hours of practice later, became a world yo-yo champion. Now he brings the TED audience to its feet demonstrating his skill in handling two yo-yos at once.
Trivial? Maybe twirling a yo-yo, sending it "round the world" or putting it to "sleep" like I did as a kid, is pretty trivial. (Dennis Owen recalls "walking the dog" and "rocking the cradle" as well.) But whatever you're doing, sufficient practice at perfecting technique can bring it all the way to the level of art. You've got the interest, or you wouldn't be doing that much practicing. So toning up the brain and muscles to be a champion at whatever enthralls you  becomes the challenge.
Watch Black whisk a cloth from beneath a vase of flowers with his yo-yo. Admire his total setting, which is stagecraft along with yo-yo twirling. Note how he keeps the Ted audience intent on what he's doing. Altogether, it's spell-binding. That's what 10,000 hours of practice did for one young man with a couple of yo-yos and the will to wield them well, very well indeed.  – Doug Bedell
Comments
Recently
Categories
Archives
Blogroll