Posted on May 13, 2013
Filed Under Government | Leave a Comment
Encore's Dennis Owen has been circulating "one of those Internet missives I received from a friend" on the Doolittle bombing raid over Tokyo, Japan, in 1942. And for good reason – the Doolittle mission was one of the most heroic, defiant episodes in American history. It was meant as a response to the sneak Japanese attack on Pearl Harbor the year before, and the takeoff from the aircraft carrier Hornet had to be moved much further out to sea, virtually at the last minute.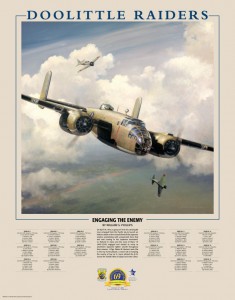 With that, Lt. Col. James Doolittle's 16 B-25 bomber crews were told they wouldn't have enough fuel to land safely in China. But they took off anyway.
"They bombed Tokyo," the Internet account recalls, "and then flew as far as they could. Four planes crash-landed; 11 more crews bailed out, and three of the Raiders died. Eight more were captured; three were executed. Another died of starvation in a Japanese prison camp. One crew made it to Russia.
"The Doolittle Raid sent a message from the United States to its enemies, and to the rest of the world:
"We will fight. And, no matter what it takes, we will win."
There are still forces in the world that, should they lose touch with reality, make such national resolve necessary.  The Doolittle crews showed what it would take, and what they were heartily willing to expend,  to bring such a message home to Japan in 1942. The 71st and last planned public reunion of the remaining four of the 80 Doolittle mission members (62 survived the war) was held last month in Walton Beach, Fla.
The four (all in their '90s) plan to get together again later this year, "informally and in absolute privacy," to open a bottle of brandy and pour it into their four remaining upturned goblets, from a set of 80. They might not have to listen too closely to hear the roar of the engines that were to bring them and their fellow aviators immortality. America will be forever grateful to all of them. – Doug Bedell
Comments
Recently
Categories
Archives
Blogroll