Posted on May 23, 2013
Filed Under Business, Technology | Leave a Comment
A massive shift is underway in how Germany generates its electricity – from conventional power plants, including nuclear, to largely renewable energies. Chancellor Angela Merkel's goal is to have Germany nuclear-free by 2022, an aim she established after Japan's Fukushima nuclear plant disaster in 2011. She envisions renewables producing 80 percent of  Germany's electric power by 2050.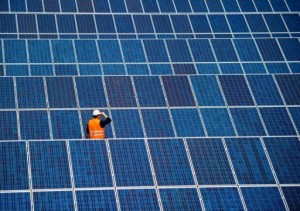 Progress toward those goals, though, is making for some tense moments in the control rooms of the German generation system, as when, Mathilde Richter reports on phys.org, clouds obscure the sun for a few minutes.  (The photo shows an array of solar panels at the airport in Finowfurt city in eastern Germany. Richter notes that Merkel is a physicist by training.)
"The situation changes fast, it's very volatile," says Christoph Schneiders, planning head at a monitoring center for the German power company Amprion. One would think so. Screens at the station update every three seconds as they monitor 11,000 kilometres (7,000 miles) of high-voltage power lines criss-crossing much of western Germany and extending into other European countries.
Emergency planning needs to be a primary discipline in such a bold (and at the same time seemingly tenuous) approach to generation, and we suspect it is. "It's quite an experiment," observes Encore's Dennis Owen. "There's a big upside if it succeeds and big problems if it fails.  It will probably fall somewhere in between.  It's impressive that the Germans have been able to meet all their energy needs under optimal solar and wind conditions."
Phys.org explains that "When clouds cover the sun over the solar plants that have mushroomed across Germany in recent years, the engineers see an instant drop in output. The sharp falls reverse just as quickly when the sky clears again. 'It goes up, it goes down, it is very difficult to predict' said Schneiders. And unlike a gas plant, he said, solar power can't just be switched off when there is an overload."
Moreover, while her clean energy goal is admirable, there's irony in Chancellor Merkel's plans. To accomplish them, Germany is planning "several new north-south 'power highways' which, ironically, often face opposition from environmentalists who don't want unsightly power lines cutting through forests.'"
Apparently, there never will be a way to get completely compatible produced anywhere. If not in the actual generation, moving it hither and yon will be objectionable to someone along the way. Lets hope, though, that the sun shines in Germany more often than not.
(A column in The Wall Street Journal, incidentally, takes an opposite view of the role of nuclear power in generating electricity and reducing greenhouse gasses. Sure, nuclear plants cost a lot to build. But they'll have far longer lifetimes than solar plants, which operate with diminishing efficiency. Solar may become more efficient, but don't rule out nuclear power in Germany or anywhere else is the warning.) – Doug Bedell  
Comments
Recently
Categories
Archives
Blogroll