Posted on August 18, 2013
Filed Under Technology | Leave a Comment
When you first see the upper "body" of the InMoov robot that will be demonstrated at the World Maker Faire show in New York's Queens County next month, your impulse is to exclaim, "Frankenstein!" But that would be mistaken, for there is no monster, nor his novelistic creator, a modern-day Mary Shelley, behind this robot. Instead, there is Chuck Fletcher, who is one of an Internet community of people developing inMoov robots, part-by-plastic part, with 3D printers.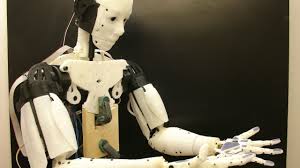 What's that? you say. You're right – InMoov is a lot to swallow in one gulp. But from what we can gather from the Maker Faire website, a deftly functioning robot (or ranks of them around the Internet) is emerging from the plastic sands, or resins, of 3D printers, which are amazing enough in themselves.
This is where you need to start: The Make site advises that Chuck Fletcher will be bringing to World Maker Faire "a fully articulated and animated 3D printed humanoid animatronic robot." Got that? "The build," Chuck continues, "is based on the open source inMoov project by Gael Langevin. This is an amazing project with hundreds of parts and a growing community of makers adding features like eye tracking, hand and finger control using the Kinect and LeapMotion devices." Suddenly, there are too many "makers" to count and too much ingenious technology to readily grasp.
(One of the great potentials of plastic parts produced by 3D printing, Langevin notes virtually as an aside, is for prosthestics, or human body parts.)
Be sure you take a few minutes to watch Gael Lsngevin's emerging winsome, yet intent, robot lift a red ball of something from "his" right hand to his left, raise it to his eyes for "inspection," then drop  it on the table before him, followed by what you might call, possibly, a celebratory gesture. It's easy to feel that you're on the verge of a bigtime something (again, not Frankenstein) under construction across the Internet – from printed-out plastic parts. Wow! (There's more on the plastic angle on the MakerBot Thingiverse site.) – Doug Bedell
Comments
Recently
Categories
Archives
Blogroll