Posted on September 5, 2013
Filed Under Technology, The Writing Life | Leave a Comment
Now here's a technical writing colleague we might all want to emulate!  Remember John D. McDonald's Travis McGee novels, in which the detective hero lived on a houseboat, The Busted Flush (named after a poker hand he won)  in 1960s Florida? Well, meet William Hutchinson, a sure enough technical writer based in Redondo Beach, California, who lives  on his boat in the harbor there.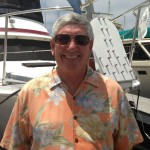 Hutchinson started writing fiction as a respite from the "dryness" of technical writing. "Technical writing is a lot more exact and it's a lot more dry," he says, "You don't get the creativity so I started writing this book, "Sigma One," right after the Soviets and the U.S. came to an arms agreement. I hypothesized why that might have happened in spite of what was in the press…"
You don't hypothesize, of course, in technical writing. But however you get  your writing juices flowing, and it may take a while, they might just stream away. It's nice to have an alternative channel for more creative stuff. Hutchinson is to be envied in that respect. He has a discipline,  and attempts to write two or three fictional pages a day. He's a movie fan who tends to think in pictures and writes what he sees in his mind. Again, that's on his imaginative, not so much technical, side.
Not surprisingly, technical writing comes easier for Hutchinson than creative writing, and not only because he's spent all those years as a systems engineer. "The hardest part of creative writing," he says, "is getting the conversations correct and getting in(to) the head of the characters." In technical writing, it's describe it as it is, with no head games.
We salute a truly versatile technical writing colleague out there on the West Coast! – Doug Bedell
(Photo of William Hutchinson from The Beach Reporter, The Beach Cities, CA)
Comments
Recently
Categories
Archives
Blogroll