Posted on October 14, 2013
Filed Under Business, Government, Technology | Leave a Comment
You've got to wonder how widely the world will be wired for electricity in the not-so-distant future, say, 2050, and how we're going to get there. A post on the phys.org site discusses that outlook as its being envisioned at the World Energy Congress being held this week in Daegu, South Korea. It refers, in the process, to some humbling, if not scary, figures.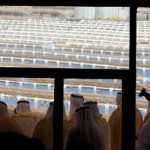 Writer Frederic Pouchot reports that population growth and accelerating urbanization are going to present the world with "a host of challenges" in the decades ahead. Indeed. A report issued by the World Energy Council (WEC) at the congress presented two energy scenarios – dubbed "Jazz" and "Symphony" – for the next four decades.
Under the market-driven Jazz scenario, "total primary energy supply could increase by 61 percent by 2050." The government-led Symphony scenario "–focused on environmental sustainability and energy security–envisages an increase of 27 percent." Both are big numbers, though the market-based projection sounds colossal. Ominously, both scenarios envision "CO2 emissions well-beyond the target levels deemed necessary to meeting the UN-set target of limiting global warming to 2 C (3.6F) over pre-industrial levels."
The thing is, Pouchot notes, while both projections are, or should be, humbling, neither would be sufficient to meet the needs of a world population expected to grow to nine billion people, from seven billion today. And they'll all be aspiring for prosperous lives.
We're only providing a lead-in here. The WEC report itself is well worth your direct attention. But consider a figure between $19 trillion and $25 trillion–that's what "the required investment in electricity generation alone" will be to meet 2050's demand levels.
There's so much for the world to be concentrating on, so many challenges to be met, as the relatively short-term future unfolds. Do you think we can get ourselves together to handle them? We can only hope and wonder at the same time. – Doug Bedell 
(Photo – A solar power plant on the outskirts of Abu Dhbai, the capital of the United Arab Emirates in March of this year.) 
Comments
Recently
Categories
Archives
Blogroll