Posted on October 28, 2013
Filed Under Communication, Technology, The Writing Life | 2 Comments
Okay, need an excuse for being an orderly writer? You shouldn't, but if you do, look at it from the viewpoint of the content you're working with. Oh really?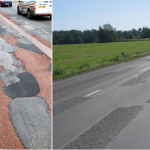 Well, that's what a writer named Vinish Garg suggests you do in a post on the Enjoy Technical Writing (ETW) blog. Content, he feels, doesn't like to be jostled around, or crammed into any place it seems it might fit. It seems to have bearings, real emotional needs, of its own. Garg uses analogies with a parking lot, a poorly patched road and a merge lane on a highway. The one we like best, that seems to fit best, is the poorly patched road.
Content that doesn't fit well, that doesn't really belong in the place a careless writer put it, is like adding another sloppy patch to a poorly patched road. It's not smooth, but bumpy. It causes the reader to wonder, "Does this make sense? Is it really correct? Does this really belong here?" And you don't want to slow too much a driver whose main interest is breezing his way to understanding, or at least steering smoothly through a difficult patch. Readers, obviously, don't like detours, roadblocks, or too many bumpy spots.
That's not to agree that content has a mind, or intent, of its own, as Vinish Garg evidently feels, only that the reader does. He or she wants content that makes sense without too much steering. Good writing isn't a game of bumper cars. – Doug Bedell
Comments
Recently
Categories
Archives
Blogroll