Posted on November 7, 2013
Filed Under Communication, Technology | Leave a Comment
You don't have knowledge of any depth unless you keep notes – that is, you're not likely to retain knowledge accurately without referring to the notes you take on it. And least most people aren't that retentive.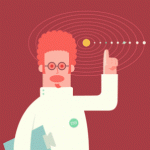 T.R. Grill, of the Society for Technical Communication at Lawrence Livermore National Laboratory, elaborates on the importance of note-keeping as much as note-taking. He leads off by citing a time-enshrined example of invaluable jotting, noting an observation by Eric Greene, a University of Montana biology professor, that "Henry David Thoreau's field notes on the flowering times of 500 plants near Concord, MA (recorded in 1851-58), are still used today for comparison with current climate-change data." Talk about (note-assisted) continuity of observation!
Greene would like to see science students "widen the scope of their note-taking to extend beyond just observations or numerical data to also include memory aids, organizational aids and commentary." In other words, jot down what you find, what you do and how it works out." Sometimes, we'd add, with an iPhone or iPad at hand, that may be extra enticing. Possibly you can take photos instead of making sketches. (And valuable activity like note-taking can help justify what you paid for the devices.)
Even without Apple's company, keeping a notebook (ruled or unruled) is mandatory if you're a technical person. That, after all, is the way it's always been. You can, as Greene notes, include claims, guesses and questions in your notes so that you get a complete emerging picture of what you're developing or analyzing.
Encore's Dennis Owen recalls the importance of ready access to personal notes from his laboratory days at General Electric, his first job after college, "when I was a note-taking fool afraid I'd miss something that was important:
"When my boss asked, 'What happened when the temperature got to so and so?' the answer was in my lab notebook."
For the sentimental among us, notes can have the same recall value as treasured photographs. But whether they enshrine sentiment or not, notes definitely have lasting value. You wouldn't want to rely on your memory alone to replace them, not ever.
When Grill gets to the point of discussing the two-column "Cornell format" for notes, the URL he supplies unfortunately wasn't working for us, but maybe it is now. Even so, you can also involve Google in your research and note-taking on note-taking. Whatever works for you when it comes to taking and retaining notes, keep doing it. – Doug Bedell
Comments
Recently
Categories
Archives
Blogroll