Posted on December 27, 2013
Filed Under The Writing Life | Leave a Comment
We've got a new technical writing colleague with us this morning, guys and gals. His name is William Shakespeare, and he has a really authoritative way with words. Will's presence today is especially welcome because the question of avoiding "his" or "her" in technical writing has come up.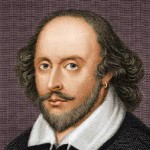 The English language and usage StackExchange site seems a trifle confused on this. But it refers us to Wikipedia, the web's collegial font of all wisdom, and, lo, they, too, think highly of Will Shakespeare. Which makes us doubly proud to have him on hand.
So, what do you do, asks a StackExchange user, to avoid a limiting, in this case, male, gender in a sentence like, "The user attempts to maximize his own capacity." Well, says Will Shakespeare when we turn to him (via Wikipedia), "There's not a man I meet but doth salute me / As if I were their well-acquainted friend." (That's from Will's rollicking play The Comedy of Errors.)
It turns out, adds Wikipedia, that "their can be understood equally well as referring to each man considered one at a time, or to all of them collectively." That's known, by golly, as the epicene their, meaning of indeterminate gender. And here, via Wikipedia, we have William Thackeray, another English authority, chiming in via his Rosalind saying in Vanity Fair "A person can't help their birth."
All of which proves that, should a technical writer's boss raise questions about his or her usage ("their" simply doesn't seem to work here, Will), it's advisable to have a shelf of English classics at hand, assuming you've already read them, of course. Have a nice day, Will, and thanks. – Doug Bedell
Comments
Recently
Categories
Archives
Blogroll