Posted on January 15, 2014
Filed Under Business, Government, Technology | Leave a Comment
"Peacetime" aerial drones don't have only to do with whether Amazon.com will be using them as delivery vehicles. Domestic drones (or UAVs – unmanned aerial vehicles) may one day fairly soon be saving lives or helping to suppress forest fires, along with delivering Amazon's wares to your doorstep (if you live close enough to one of its distribution centers).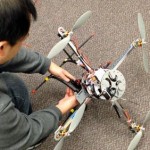 Drones, as Wikipedia notes, have been known primarily as military and special operations vehicles. But they are coming into practicality and favor for "a small but growing number of civil applications, such as policing and firefighting, and nonmilitary security work, such as surveillance of pipelines." They're often preferred, Wikipedia adds, "for missions that are too 'dull, dirty or dangerous' for manned aircraft."
There they go, smudging the image, though not the ultimate utility, of civilian drones already. Flight rules will have to be worked out by agencies like the Federal Aviation Administration (FAA), so there will be no possibility of interference with aircraft with onboard pilots and passengers. But the domestic drone's day is coming. The Senate Commerce Committee is holding hearings on their use. And the Federal Aviation Administration has established six drone test sites, preliminary to figuring out how to safely integrate them into U.S. airspace.
Wei Wei, a student at the University of Cincinnati, is convinced of that. The university is a center of drone research. Kelly Cohen, an associate professor aerospace engineering engineering and engineering mechanics there, says "our students see that unmanned systems can have a positive impact on society."
Wei Wei is one those students. He's speaking this week on the design of quadrotor drones (drones with four vertically-mounted propellors) at a UAV conference at National Harbor, Md. "A selling point for this configuration is its efficiency, in both time and money, and the accuracy."
A University of Cincinnati team working with drones at the University of Toledo is well along on its Surveillance for Intelligent Emergency Response Robotic Aircraft (or SIERRA) project. It's drones, advises phys.org, are being "outfitted with global positioning systems, environmental data, video and fire-prediction software to give real-time information to firefighters about where a fire is burning and where it is moving – information that could save lives." Wei Wei has been part of this research, too, and it's been drawing interest from the Cincinnati Fire Department.
There's already jousting going on at the legislative level to prompt the FAA to issue regulations that will allow the safe use of civilian drones. That's a likely outcome of all the current incubation going on, as well as the utility of the future's civilian drones. – Doug Bedell
Comments
Recently
Categories
Archives
Blogroll