Posted on February 10, 2014
Filed Under Communication, Technology, The Writing Life | Leave a Comment
Here are two web commentaries on efficient writing, efficient because it admirably accomplishes its purpose, whether that be to entertain or to instruct.  Romance novels are one category, and academic or technical writing another. Technical writing is held to a higher standard of reality, since it describes actual (that is, current) places and/or systems. Romance writing leaves everything to the writer's conjuring, but a good writer won't abuse that privileged state.
Academic and technical writing, notes the Precise Edit's Blog, "can be complicated, tedious and confusing. They can be terribly boring." And there's no way to waive such abuses of a reader's time and attention to duty. Density is density, boring is boring. On the other hand, romance writing,  in which the author's imagination controls the narrative,  can be turgid, too.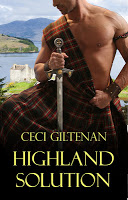 Ceci Giltenan is the author of "Highland Solution," a novel of medieval Scotland published last fall. In her professional life, Ms. Giltenan's expertise is in drug development "and much of it involves reporting results from human clinical studies. In this kind of writing, one starts at the beginning, tells the full story in chronological order and includes every known detail."
Writing a romance novel, however,  is more like creating and solving, or leading the reader to solve, an imagined puzzle. "I provided the pieces and left the reader to put them together." Leaving it to the reader to put a piece of technical writing together, though, could lead to real-time peril. The two are not equivalent kinds of writing.
Yet both romance and technical writing need to engage their readers, either by stirring their imaginations or leading them efficiently through a process. And authors can write badly in both disciplines. Considerations of innate talent aside, why might they do that? Possibly technical writers might think their writing "is supposed to be dull and confusing, or perhaps they think it sounds more professional," suggests the Precise Edit's writer. Or "maybe they have read a lot of poor writing, so when they review their writing, it sounds 'right.'" Oh dear.
In the case of a romance writer under full steam, a tale has to hang well together. "I still create an extensive dossier capturing details on each character's life and use it to help determine what they might do in any situation," notes Ms.Giltenan.
"However," she adds, "unlike a clinical study report, the most compelling story is not necessarily told chronologically and I am not required to spoon feed the reader every detail. Deciding what parts of the puzzle to reveal has become almost as much fun as being all-knowing."
"Fun" isn't the technical writer's preserve. But being as meticulous as knowing what life in medieval Scotland was like is obligatory there, too. Effective writers can't escape their obligations in whichever realm – real world or fanciful – they may be active. – Doug Bedell
Comments
Recently
Categories
Archives
Blogroll