Posted on March 4, 2014
Filed Under Communication, Technology | Leave a Comment
Gupreet Singh on Technical Writing ToolBox provides an interesting post on adding sounds to technical manuals. That's right, here's what a properly functioning home freezer should sound like – and hissing or blubbing sounds, among others, are "pictured". Pretty creative, was our first impression.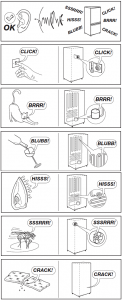 Yet the mind wanders. I thought (briefly) about  how you'd go about depicting the sounds from the equipment in an operating nuclear power plant and realized, from the plants I've been in, that the roaring turbine generators, or steam hissing through overhead piping, just about overpowered everything else. On the other hand, though, the control rooms are quiet sanctuaries. But why distract the operators with pictures of normal background sounds they're quite accustomed to? Documenting directions is one thing, sounds another.
Maybe, indeed, illustrated sounds should be left to consumer product manuals, where the new owners are expecting to hear only a hum from their new freezers or refrigerators. And why should that be an unreasonable expectation?  – Doug Bedell 
Comments
Recently
Categories
Archives
Blogroll