Posted on November 12, 2014
Filed Under Technology | Leave a Comment
Running to keep up with technology? How about keeping abreast of 3D printing – you'll need to expend a couple of extra pumps for that! The last we heard a while back, 3D printing was a curiosity with eventual marketing potential. Now, only a short while later, it seems, we find Matt Stultz on the Make website blogging about "3D Printing Around The Home: The Bathroom." He's spending a week focusing on 3D printing in the home, with the bathroom being his first installment.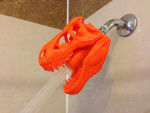 Yes, once you equip yourself with a 3D printer (they seem to be going for around $1,500, but that's only after a quick look on Amazon), you can actually "manufacture" such items as shower curtain hooks, a drain snake, sink or toilet parts, or a bright red T-Rex shower head. (That certainly beats the old, chrome spray-head we've had there forever – it's almost worth the price of the printer all by itself!)
Matt is also suggesting 3D-printed items for the kitchen or workshop among, no doubt, other rooms. Before long, we'd bet, you'll be able to print out a dwelling to accommodate them afresh!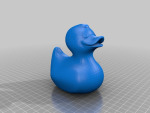 Oh, about the bathroom – we forgot to mention that, along with keeping your shower "a happy place," in Matt's words, you can also print out your own version of the ultimate bathtub accessory, a rubber ducky! Now, haven't we made your day, and given you something truly worthwhile to save up for? You can thank Matt and Make for that, though.
Now, think what you could do with a 3D printer around the office, or maybe not. – Doug Bedell 
Comments
Recently
Categories
Archives
Blogroll