Posted on December 9, 2014
Filed Under Business, Communication, Technology, The Writing Life | Leave a Comment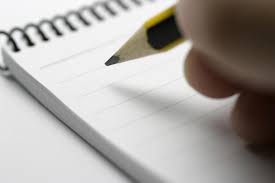 Taking notes isn't simply scrawling a snapshot of what you've read so that you can recall the details later on. Technical writers, especially, should be mindful that note-taking can be a memory jog for inspiration itself – that is, it has a wider function than just "recalling". It can be a prod for creative advances.
We are reminded of the creativity-prompting potential of note-taking via an edutopia post by T.R. Girill, of the Society for Technical Communication at the Lawrence Livermore National Laboratory.
There were, of course, as Girill observes, the field notes of Henry David Thoreau "on the flowering times of 500 plants near Concord, MA (that) are still used today for comparison with current climate-change data." But, as he continues, most notes "are used by an audience of one": yourself. Yet they can extend your reach widely.
Thus, Girill cites Eric Green's chapter (Ch. 12) in Michael R. Canfield's book, "Field Notes on Science and Nature" (Cambridge: Harvard University Press, 2011) in urging science students – we'd add practitioners, too – to extend the scope of their note-taking "beyond just observations or numerical data" to include such utilitarian matters as:
"• Memory aids, about places, times and conditions that could be helpful later but will be forgotten if not captured now.
"• Organizational Aids, cross references and page indexes (easiest if the notebook pages are numbered), especially for long projects.
"• Commentary – any remarks that could generate new ideas or improvements on old ideas."
Writers and reporters have been mindful of the memory-prodding value of notes for ages. Thus the piles of notebooks and other materials that you're apt to find in the vicinity of newspaper reporters and writers, or at least were, before the acquisition of digital data became so prominent. (We remember the table behind the desk of one reporter at the old Philadelphia Bulletin that was piled so high with notebooks and other source materials that it nearly triggered a newsroom pool as to when it might topple over.)
Girill's post includes further prompting on memory-jogging techniques stemming from good note-taking. We'd simply restate what should by now be obvious – that the more you earnestly record, the more you're likely to usefully recall at some especially auspicious point later on. Note-taking is well worth the time involved in jotting informative encounters amply down. – Doug Bedell
Comments
Recently
Categories
Archives
Blogroll