Posted on January 13, 2015
Filed Under The Writing Life | Leave a Comment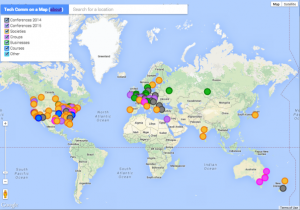 Wow! Want to know what's going on in the world of technical writing by locale? We've come upon Sarah Maddox's "Tech Comm on a Map" interactive GitHub page, Technical Communication on a Map. It's got color-coded, click-on locations for technical communication Conferences, Societies, Groups, Businesses, Courses and, even, "Other" locations for tech com activities around the world. You can turn the categories on or off to get a clearer view of any given activity in the crowded world technical writing community.
This is the kind of enterprising service that makes fraternity possible, whether in technical writing or any other activity. Thank you Sarah! We're about to embark on a tour of your locales, worldwide. A great service!
Sarah does the ffeathers "technical writing and fiction" blog. Now there's a combination!
Comments
Recently
Categories
Archives
Blogroll