Posted on February 27, 2015
Filed Under Technology | Leave a Comment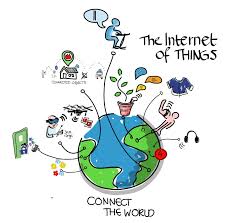 We pass this post from Technically Speaking along as much for its graphic as its written contents, though both highlight how interconnected our world is becoming, and how security concerns are rising along with digital proliferation.
Yes, the "Internet of Things" is both awesome and alarming. The term dates back 15 years and refers to "the next evolution of the internet when everyday objects are networked to the web and each other." Smart watches, connected cars, appliances and houses are examples.
Even the Department of Defense is into internet connectivity, for such mundane functions as managing its vehicles, trash pickup, and inventory management, along with piloting airborne drones and driverless vehicles.
The problem is that "smart 'things' don't come without risk…as the rate of connected devices rises exponentially, the number of hackable things does too."
The post includes further reflections on the growing, unwelcome detectability of technical and security information, and we recommend it to your earnest attention. We can't have digital devices, it appears, without growing digital risks. At the least, be sure you're keeping your anti-virus software updated. And try your best to keep abreast of our digitally diverse world. – Doug Bedell
Comments
Recently
Categories
Archives
Blogroll