Posted on April 9, 2015
Filed Under Communication, The Writing Life | Leave a Comment
We were browsing for an Insights post and came upon Technical Writing World, an interesting-looking "social network for technical communicators". Yet, there it was, in the very latest post, by one Steph Hepner to Lia Pi, apparently a member of a college class somewhere:
"Hi, this is my experience. I didn't watch my grammar or composition, so please don't think I'm a bad tech writer – I was just lazy and in a hurry! You may contact me if you have any questions or I answered yours incorrectly…"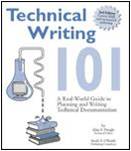 Well, thank you, Steph, for the antithesis of good technical writing. We learn sometimes, don't we, by going to extremes? Well. the extreme for good, orderly technical writing is 1) Being lazy, 2) Being in a hurry and 3) Leaving the reader guessing, puzzled or confused.
You couldn't boil the craft down to a more succinct core than that.
Maybe technical writing, though, doesn't belong on a gossipy, we'd presume, social network like this one. Yet Technical Writing World appears to be devoted to the craft itself. Or, maybe we're missing the difference between conversation and a craft. To be kindly, we'd allow that that's what occurred here.
The trouble is that technical writing is pretty demanding, even in its "social mode". What if, under pressure, a technical writer should lapse into his or her social media guise? That wouldn't be good for him, her, the craft, or the enterprise involved, would it? Or is there a difference between the standing of the craft and given practitioners thereof? We'd hope not.
The heart of what we're trying to suggest is that good writing is a discipline, one that's practiced whenever fingers touch upon a keyboard. Suppose a concert pianist began doodling "in public," which, after all, is what writing on a social network amounts to – conversing in written form in public.
No, Steph, we don't think you're necessarily a bad technical writer, just a reckless one when it comes to communicating outside your cubicle. Or were you in yours when you wrote this post? If so, shame. You don't need to be stuffy, just careful, orderly and certainly not in a hurry. – Doug Bedell
Comments
Recently
Categories
Archives
Blogroll