Posted on June 24, 2015
Filed Under Communication, Technology | Leave a Comment
The vast range of human technical ingenuity is brought home, sadly, by the death of Dr. Graeme Ross Quick, an Australian whom most of us never heard of.
The Land, an Australian blog, advises that Dr. Quick "was an authority on harvesters, tractors and much more." He died last month at the age of 79.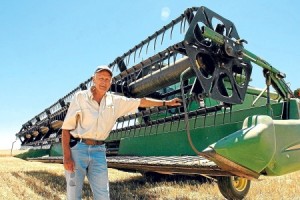 An authority on harvesters? Don't they just grind across a field, bringing in a crop? Not if you're a farmer they don't. They're highly specialized pieces of technical equipment.
What you come to know depends largely on where and how you're raised, and what experiences and opportunities you're exposed to. Dr. Quick was raised in Australia's Victoria state and developed a fascination with farm equipment "on an uncle's nearby farm where he helped stock sheaves and worked with a horse-drawn reaper and binder."
Farm work "helped fund his studies for a University of Melbourne degree in mechanical engineering, also sparking a career-long interest in field equipment efficiency." What you influence, thereby, is what you become increasingly attached to.
Graeme Quick and his wife, Marlene, moved with their three young boys to the U.S. in 1967, where he accepted an invitation to teach and study for a doctorate at Iowa State University. His later career took him to Norway, Canada, the Philippines (where he headed the International Rice Research Institute's agricultural engineering division), and then to the United Nations Food and Agriculture Organisation (FAO). "His rice research and FAO projects," the FarmOnLine writers add, "took him as far afield as Egypt, Pakistan, Bangladesh, Vietnam and Bhutan in the Himalayas."
That all made him an international technical advisor in harvesting. Think how much of an increased yield resulted from his work! And he became the first Australian fellow of the American Society of Agricultural Engineers. Obviously, you don't give accomplishments like these any thought if you're not aware of them.
Finally, Dr. Quick received agricultural engineering's highest recognition – the C.H. McCormick-J.L. Case gold medal "for meritorious contributions to the profession."
How many such technically grounded men and women, largely unsung heroes and heroines of our times, do you know? Don't you wish you knew more of them? Be alert to where they might be active in your field, and seek them out. In this Internet age, that's becoming easier to do. You'll grow together, harvesting wisdom. – Doug Bedell
Comments
Recently
Categories
Archives
Blogroll