Posted on March 29, 2016
Filed Under Business, Technology | Leave a Comment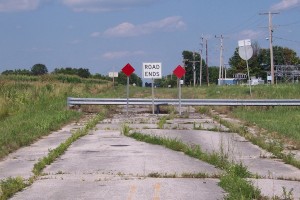 We're penning this commentary on a post by Jim Grey (on his Stories from the Software Salt Mines blog) not only because we like the graphic (left) that runs with it, but because it gives the lie to the notion that economics are nearly everything in business. Creativity, focus and flow count for a lot too.
Jim's noting, and complaining, that Silicon Valley tech companies appear to be moving their tech support departments to middle America because they can pay support techs less there. Let the support folks answer phone queries from the boondocks, rather than the coasts, is what it amounts to. Yet that's a profoundly mistaken view if a company's more creative people are on the coasts. If creatives aren't housed with the support people, we'd counsel, watch out!
Over time, a tech company might well be denying itself insights that could make it's products better and more customer-focused, because they're not being made in a system in which front-line customer/technical feedback is being readily heard. A system implies activity centers in a configuration that readily and productively support each other.
"Support," Jim Grey writes, "really can be a good place to grow talent for other teams because techs know the products and, more importantly, how users actually work with and experience them."
Who'd a thunk? That's what happens when support people spend all the time they typically do with confused and possibly disgruntled users. Why deny a firm's "creative" people the insights they garner or have them coming in secondhand, from the heartland to the coast?
Stupid, stupid. "Here in the Midwest, where cost of living is generally low," Jim observes, "the startup, small, and medium-sized companies where I've worked don't outsource customer service. Those workers are already plentiful and inexpensive. And so support is always down the hall or on the next floor. Developers and testers become friends with many of the support techs."
So why doesn't Silicon Valley see the benefit in having everybody together, too? Can it be economics alone – if so, it's a false sense of economics. Or is there something of a caste system at work as well – "creatives" and everybody else. If so, and again, that's simply stupid.
Take down the "Road Ends" sign in the photo and yank out those weeds. We're all in this together, designers and enablers alike. That's the best kind of economics. Amen. – Doug Bedell
Comments
Recently
Categories
Archives
Blogroll