Posted on April 20, 2016
Filed Under Communication, Technology, The Writing Life | Leave a Comment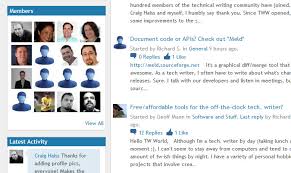 We need to tip our hat, or maybe more, to Technical Writing World, the "social network for technical communicators." Yes, more – so we'll blog a bit about the site. Why? Because it's got over 2,800 members, and that's great for a social network that's not Facebook or Twitter.
What's all this gushing about? Well, we're halfway through our second reading of Mark Schaefer's latest book, "The Content Code," which describes in detail how hard it is to get discovered on the Web these days, and how it's getting even harder.
What Technical Writing World's impressive membership indicates is that technical writers are discovering each other in a world-wide community of engaged, conscientious people. We knew they were conscientious, of course, but to join and sustain a worldwide community like TWW is exemplary these days.
For the Web is like a vast sea that's getting ever wider and deeper, one where it's increasingly hard to be found and engage with other colleagues. We look at Technical Writing World and all sorts of sharing seems to be occurring there. There are 189 blog posts, 607 forum discussions, an upcoming event next month of the Society for Technical Communication, leaderboards to promote the most active members and their contributions, a Techcomm Superfeed with the latest blog posts from members, and postings of technical writing jobs. (Might this be a special reason for the site's popularity?)
"I've spent the last year studying this essential concept of content ignition, Mark Schaefer writes in 'The Content Code,' and it has changed me. There is a science and psychology behind the act of sharing content that is awe-inspiring and beautiful and mesmerizing. People share content for hundreds of reasons, but there is a uniform process behind it inexorably linked to self-image, caring for others, and even compassion for an author or brand."
Well, nobody seems in need of compassion on "Technical Writing World," but it is indeed an awe-inspiring site, a testimony to the communal challenge, satisfaction and sharing behind technical writing taken seriously and collegially. – Doug Bedell
Comments
Recently
Categories
Archives
Blogroll