Posted on April 25, 2016
Filed Under Business, Communication, Education, Technology | Leave a Comment
Here's a fascinating example of where technology is taking us – using virtual reality viewers to simulate whatever setting we care to experience and learn from. The thought occurred that this immersive technique might possibly be useful (and certainly engaging) to technical writers with a visionary bent.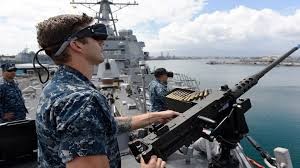 For example, the U.S. Navy at Pearl Harbor is using virtual reality at actual shipboard gun emplacements to detect and ward off simulated attackers. And there's a paper available (by five writers) on "Teaching Technical Writing Using 3D Virtual Reality Technology." We haven't read it yet, and virtual reality gear may be expensive to acquire and use. But when you're on a frontier, it's good to be aware of the possibilities. The future, as we know, has a way of advancing rapidly.
Suppose you work on a large site with lots of gear to monitor and use to its full operational advantage. With a virtual reality setup you could possibly simulate contexts of interest without leaving your desk. That could allow a highly efficient use of your creative energy. Of course, there'd be costs, possibly substantial ones, to get you to that point.
Or maybe you'd like to experience a setting that doesn't yet exist. We don't know what's involved in programming virtual reality, but it's likely that this scenario is already being experienced somewhere. "Here's where we're headed," a VR practitioner is saying, "and no, we really don't want to go there. Here's why." All without leaving your morning coffee.
The potential for teaching technical writing in a classroom setting using virtual reality is explored in the paper referenced above, whose writers are interested in providing "practical learning environments for students." And Google can likely direct you to other pathbreaking instructional material on VR.
The point is, virtual reality is a new technique for exploration and learning. Freshness tends to become ever more intricate, so we'd suggest considering VR while it's still an opening book for technical writers. – Doug Bedell
Comments
Recently
Categories
Archives
Blogroll