Posted on May 6, 2016
Filed Under Communication, Technology, The Writing Life | Leave a Comment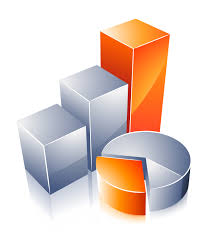 Up till now, Insights has been devoted essentially to technical writing, but it's time for discussion of graphic aspects of the trade too. That's thanks to Bart D. Leahy who, on his Heroic Technical Writing blog, discusses adding pictures to technical output – well, charts and graphs at least. They're pretty heroic in their own way.
"Which graphic should you use?" is the post's title, for you've got choices – between line, bar and pie charts and tables, to get things started. (You can also use photographs or drawings but we're in the chart mode for now.)
Line charts, Bart Leahy advises, are good for tracking a single value or two over time and are helpful in showing trends. Bar charts can compare a host of items in terms of quantities, rather than time. Pie charts display percentage slices of a whole. And tables, while not so graphic, can compare text- and number-based information.
But watch out, unless you're purposely trying to mislead, which, of course, you shouldn't be doing. The way graphics are displayed, Leahy shows, can be misleading and you don't want to be that crafty.
"Graphics are becoming increasingly important to how technical information is conveyed," Leahy summarizes. "It is vital that technical communicators of all varieties understand the conventions, pros, and cons of of different visual representations… Take the time to present your data well and your readers will appreciate it."
Well, it's true that a picture can be worth a thousand words. But we're not giving up on words – that can't be done in the technical sector any more than anywhere else. But being mindful that graphics can offer summary views of material can help to enliven your text, which is something you should always be seeking, legitimately, to do. – Doug Bedell
Comments
Recently
Categories
Archives
Blogroll