Posted on June 3, 2016
Filed Under Communication, Technology, The Writing Life | Leave a Comment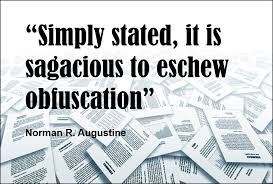 What's a technical writer's purpose?
Sarah Maddox on her blog Ffeathers gives that timeless question (at least since the first technical document wafted through a transom) a fresh spin by quoting Joao Fernandes, whom she heard speak at a conference:
"Help build products that need no documentation."
Yes, Sarah notes, "Our users don't want to read the docs. They want to use the product."
Accordingly, technical writers should be on both the design and delivery ends of projects and equipment. If you're not, ask why not.
A technical writer, Joao is further quoted, should be the "CEO of the docs." How's that for a sense of purpose? Without clear documentation, an organization can't function. So you're virtually in control of your organization. And your CEO will appreciate it if you function clearly and concisely. (He or she may need some help with that, too.)
The best documentation, Fernandes added at the Docs NA 2016 conference, may be "very little." Strong organizations begin with clarity in designing their own mission and goals before serving users.
You've known it right along: Technical writing is, or should be, a highly strategic function. Act on that recognition every chance you get, clearly and deliberately. Hopefully, you'll be thanked for it. – Doug Bedell
Comments
Recently
Categories
Archives
Blogroll