Posted on August 26, 2016
Filed Under Communication, Technology | Leave a Comment
Pictures can "tell a thousand words," or at least a snapshot's worth. Why not consider including them as part of a written technical procedure or manual? Greg Larson on the TechWhirl blog provides inspiration for doing just that.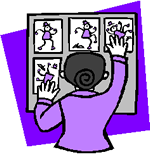 Greg suggests both pictures and sounds. But to keep the result from becoming a confusing garble, he advises planning it carefully in advance – how else but with storyboards? "Storyboards," he writes, help you organize before you begin to develop your presentation, video tutorial, animation, simulation or web-based training, by putting it into a format that allows others to see the sequence of your presentation before you begin production.
"It helps organize the pile (or the idea that could become a pile) of videos, photos, audio clips, and documents according to a logical sequence that can be aligned with text or audio."
You might not be planning that ambitious an audio-visual presentation, but laying out pages in advance, what newspaper and magazine editors have always done, will insure a more coherent, informative result. Technical writing, illustrated or not, always has to lead to a safe, effective endpoint. We'd say "conclusion," but this, after all, involves procedures, not novels. And procedures can bring primal results.
For technicians, being resourceful never includes being casual. A display of photos in a procedure or manual has to be appropriate to the end result – carefully chosen, thought through and illustrative of the process involved. No comics allowed!
"Storyboards," Larson explains, "help you organize before you begin to develop your presentation, video tutorial, animation, simulation or web-based training, by putting it into a format that allows others to see the sequence of your presentation before you begin production. It helps organize the pile (or the idea that could become a pile) of videos, photos, audio clips, and documents according to a logical sequence that can be aligned with text or audio."
So pile it on, friends, but carefully. – Doug Bedell
Comments
Recently
Categories
Archives
Blogroll